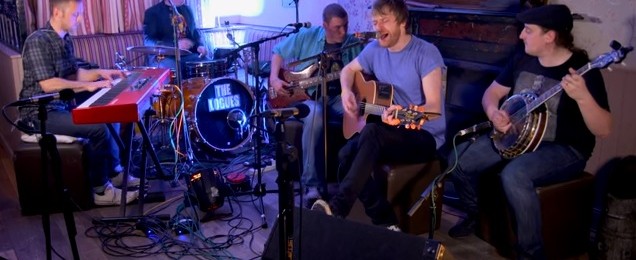 The Logues began their music career as a group of friends playing in pubs around their hometown Co Tyrone. Now, after being recently signed by record label, AMA Music Agency, the band has huge plans to make their music known. They have been called "The most progressive folk band in Ireland", and that they are, playing everywhere from the hills of Donegal to the dunes of Dubai.
The Castlederg crew have recently released their single 'I Don't Love You At All', with B-side 'Home', as well as a string of Irish Tour dates up and down the country. The band will be kicking off their Irish Tour this weekend in Donegal, and in the exciting lead up to this, they have just released a new video for their single 'Home'. For the video, they have went back to their roots, recording in the Townhouse Bar in Castlederg, the place they call their 'Home'.
'Home' is now available for download from iTunes and Amazon. For upcoming gig news, follow the band on Facebook and Twitter.
The Logues will be performing live at:
Mc Grory's Culdaff 14th November
Empire Music Hall, Belfast 19th November
Workmans Club 22nd December
Townhouse Castlederg 26th December
Harbour Bar, Bray 27th December
Garavogue Sligo 2nd Jan